Thank you for your support of the 2022 JCRB|AJC Human Relations Event honoring Alvin Brooks!
LINE
Join us to celebrate civic leader and civil rights activist Alvin Brooks when he receives the prestigious Henry W. Bloch Human Relations Award at JCRB|AJC's annual Human Relations Event on Sunday, October 30th, 2022 at the Sheraton Kansas City Hotel. The event will be chaired by prominent civic leaders U.S. Representative Emanuel Cleaver, II, Shirley Bush Helzberg, Leo Morton, Carolyn & Bob Reintjes, Sr., and Adam P. Sachs. Guest registration opens at 5:00 p.m.
The Henry W. Bloch Human Relations Event fuels JCRB|AJC's education, community outreach, and advocacy work aimed at combating antisemitism and pursuing justice across our region. As America experiences extreme divisions and rising antisemitism, our work is more important than ever. Please join us in helping empower Jewish leaders and allies to build a safer, more inclusive region for everyone.
Please click "RSVP Here | Become A Sponsor" above to remit payment or
send your completed Sponsorship Reply Form to hillaryt@jewishkc.org or mail it to:
JCRB|AJC
5801 West 115th Street, Suite 203
Overland Park, KS 66211
Questions?  Contact Hillary Parker Thomas, Development Director, at 816-327-8184 or hillaryt@jewishkc.org
---
Event Chairs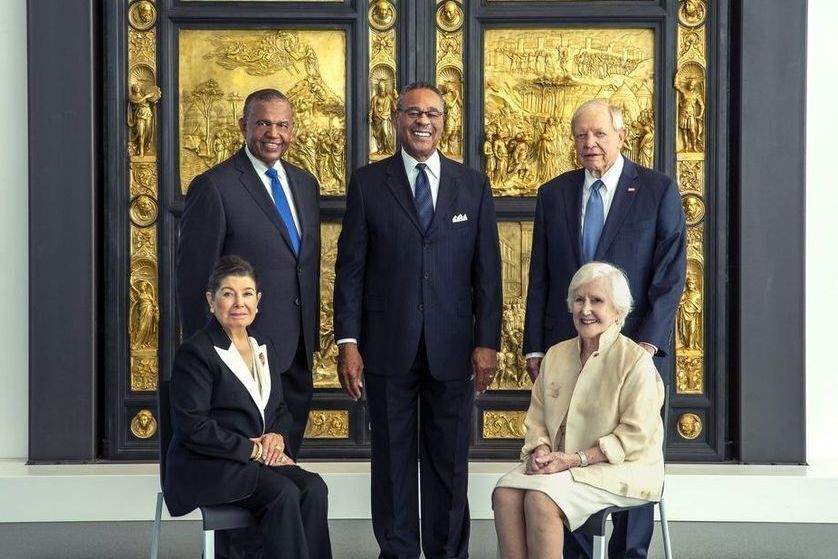 Photographer: Max Thomas, with thanks to the Nelson-Atkins Museum of Art
From left: Event Chairs Shirley Bush Helzberg, Leo Morton, U.S. Representative Emanuel Cleaver, II,
Bob and Carolyn Reintjes. Not shown: Adam P. Sachs
---
Thank you to our Event Sponsors!
Torchbearers
Advocates
Partners
Allies 
---
Event management support provided by: 
Event Producer, Eventology LLC | Donna Thomason

Please note that only the amount of your contribution exceeding $85 per person attending is tax deductible as allowed by law. By law, the non-deductible amount must be covered by personal funds, and cannot be covered by a donor advised fund or other fund/foundation held by a community foundation.