LEADING WITH HEART: 2023 Human Relations Event honoring Joe Reardon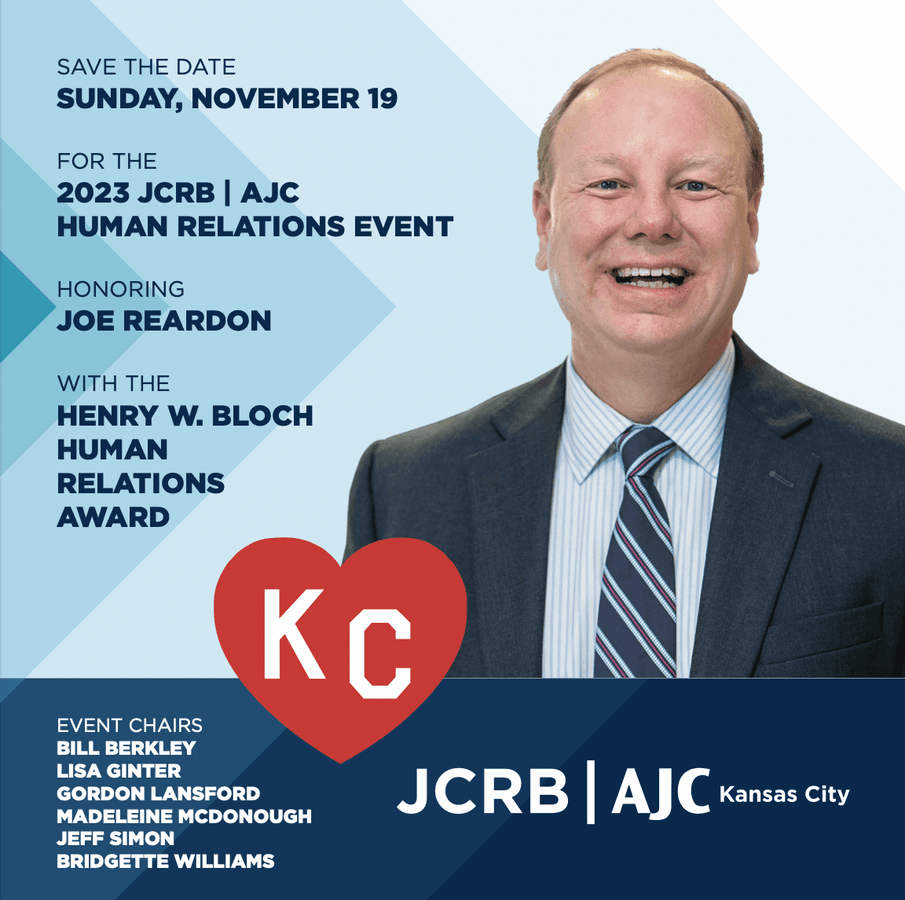 LINE
JCRB|AJC invites you to save the date to celebrate civic and community leader Joe Reardon as he receives the prestigious Henry W. Bloch Human Relations Award at the annual Human Relations Event on Sunday, November 19, 2023 at the Westin Crown Center. The event will be chaired by: Bill Berkley, Lisa Ginter, Gordon Lansford, Madeleine McDonough, Jeff Simon, and Bridgette Williams. 
Joe has spent his career leading with heart—committed to improving quality of life for every Kansas Citian. Highlights of his career include serving as Mayor and CEO of United Government of Wyandotte County/Kansas City, Kansas, and most recently as the President and CEO of the Greater Kansas City Chamber of Commerce. During his tenure, Reardon has established new Chamber initiatives focusing on workforce development, supporting small businesses, inclusive prosperity, crime and violence, and diversity and inclusion. JCRB|AJC is thrilled to celebrate Joe's tireless service, allyship, and advocacy across Kansas City. We hope you will join us!
JCRB|AJC's Human Relations Award honors the legacy of Henry W. Bloch, whose quiet brand of leadership and integrity set a benchmark for community activism. The Henry W. Bloch Human Relations award is given each year to a leader in Kansas City who demonstrates exceptional moral and civic leadership in making our region a better place in which to live.
Funds raised by this event fuel JCRB|AJC's education, community outreach, and advocacy work aimed at combating antisemitism and pursuing justice across our region. As America experiences extreme divisions and rising antisemitism, our work is more important than ever. Please join us in helping empower Jewish leaders and allies to build a safer, more inclusive region for everyone.
For sponsorship opportunities or questions, contact Development Director 
Hillary Thomas at 816-327-8184 or hillaryt@jewishkc.org.
THANK YOU TO OUR SPONSORS
BRIDGEBUILDER
TORCHBEARER
ADVOCATE
PARTNER
ALLY
Please note that only the amount of your contribution exceeding $90 per person attending is tax deductible as allowed by law. By law, the non-deductible amount must be covered by personal funds, and cannot be covered by a donor advised fund or other fund/foundation held by a community foundation.
PREVIOUS HONOREES
Alvin Brooks (2022)    Reverend Thomas B. Curran, S.J. (2021)   Dr. Debbie Sosland-Edelman (2020)   Herb Kohn (2019)   
Irv Hockaday (2018)    John J. Sherman (2017)    Julia Irene Kauffman (2016)   Mark R. Jorgenson (2015)   Greg M. Graves (2014)
James B. Nutter, Sr.* (2013)    Leo E. Morton (2012)    Morton I. Sosland (2011)    Donald J. Hall, Jr. (2010)    Karen L. Pletz* (2009)
 Robert D. Regnier (2008)    Peggy Dunn (2007)    Gary Forsee (2006)    Adele Hall* (2005)    Henry W. Bloch* (2004)
Clyde F. Wendell** (2003)    John P. McMeel** (2002)    G. Richard Hastings** (2001)    Arthur S. Brisbane** (2000)
P.J. Adam** (1999)    James E. Stowers, Jr.*** (1998)    Bert Berkley** (1997)    Thomas A. McDonnell** (1996)
William T. Esrey** (1995)    Louis W. Smith** (1994)    William C. Nelson*** (1993)    Drue Jennings** (1992)
William H. Dunn, Sr.** (1991)    Marion H. and Henry W. Bloch*** (1990)    The Honorable Dan Glickman** (1989)
Bebe and Crosby* Kemper** (1988)    Shirley and Barnett Helzberg** (1987)     Betty and Arthur* Brand** (1986)
The Honorable Robert Dole*** (1985)    Barbara and H. Paul* Rosenberg** (1984)    Sybil and Norman* Kahn** (1983)
The Honorable Richard L. Berkley** (1982)    Samuel Sosland*** (1981)    Melvyn E. Krigel*** (1980)    Sidney Willens** (1979)
Irvin Fane*** (1978)    Beth K. Smith*** (1977)     
  *Of blessed memory (z"l)     **Recipient of the Human Relations Award (prior to renaming)