If you or your student is experiencing antisemitism in school, or is not being properly accommodated, please contact JCRB|AJC.
Students and parents can also complete a Student Incident Report.
SCHOOLS
JCRB|AJC, through its Education Committee, cultivates relationships with school districts and educational leaders around our region. We also distribute a Calendar of Jewish Holidays each year to ensure that Jewish students are accommodated in their schools.
WE CAN PROVIDE ASSISTANCE IN SOME OF THE FOLLOWING WAYS:
Student or Faculty Tension Arising from Antisemitism or Intolerance: We can assist with anything from proactive education to responsive consultation and conflict mediation;
Religious Observance: We can address broad inquiries about the fundamentals of Judaism, or help find appropriate speakers for educational presentations;
Scheduling and the Jewish Calendar: In addition to our yearly calendar detailing Jewish holidays that impact student attendance, we can answer questions regarding specific scheduling and potential conflicts;
Student, Faculty, or Parental Concerns Regarding Curriculum: We can provide our perspective and suggest possible solutions regarding curriculum on sensitive topics such as Israel/Palestine, the Middle East, and religion; and
Current Events Involving Israel, Antisemitism, or Other Extremism: We can help navigate events that are likely to create tension in schools and offer our insight and resources to assist in addressing such events constructively
If you or your student is experiencing antisemitism in school, or is not being properly accommodated, please contact JCRB|AJC's Director of Education and Programs, Sarah Markowitz, at sarahm@jewishkc.org. 
We currently partner with the following school districts and schools:
Blue Valley School District
Olathe Unified School District 233
Shawnee Mission School District
Kansas City Public Schools
Lee's Summit R-7 School District
Turner Unified School District
Pembroke Hill School
Notre Dame de Sion
The Barstow School
Kansas City Kansas Public Schools 
Kansas City Public Schools
St. Teresa's Academy
Piper School District
Platte County School District R-3
If your district or school is not listed, please contact JCRB|AJC. We are always looking to expand our relationships. 
Please see below for more information on how JCRB|AJC serves as a resource for schools and the educational programs we offer to staff and students.
Click the image to view or download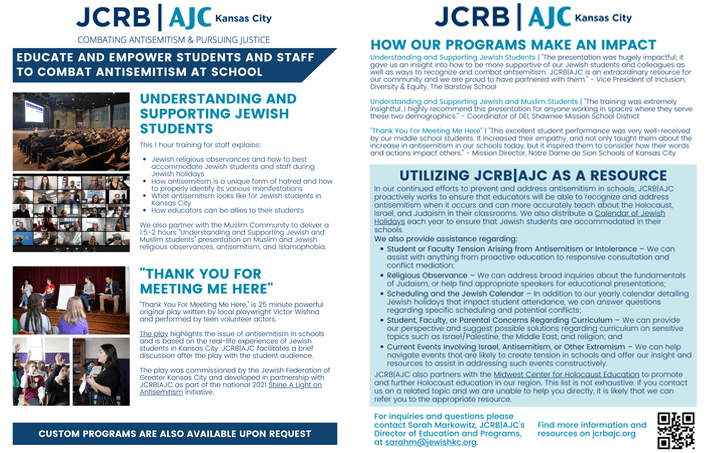 STUDENTS
JCRB|AJC works to ensure that young Jews in Kansas City are informed, prepared, and effective advocates for the Jewish people and for themselves.
WE DO SO IN SOME OF THE FOLLOWING WAYS:
Click the image below to download a specially curated document
with resources and tips for combating antisemitism.